Stained Glass Window
From Dead Media Archive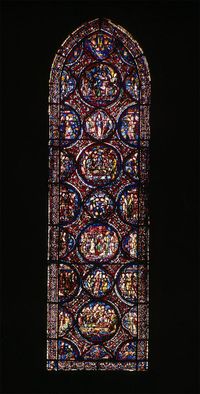 Technical Development
Theology
And God said, "Let there be light," and there was light. God saw that the light was good, and he separated the light from the darkness. (Genesis 1:3–4)
Art and Architecture
Repositioning
Works Cited
Raguin, Virginia Chieffo. 2003. Stained Glass: From Its Origins to the Present. New York: Harry N. Abrams, Inc.
Reyntiens, Patrick. 1990. The Beauty of Stained Glass. London: The Herbert Press.
Sowers, Robert. 1954. The Lost Art: A Survey of One Thousand Years of Stained Glass. New York: George Wittenborn, Inc.
Tasker, Edward G. 1993. Encyclopedia of Medieval Church Art. London: B.T. Batsford Ltd.