Hip Pocket Records
From Dead Media Archive
Hip Pocket Records were flexi-discs manufactured by Philco in 1967. They were one of the first forms of portable music, preceding cassette tapes and compact discs.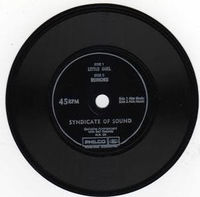 Brief History
The invention of the automobile brought on a wave of excitement and anticipation among the American people. The technological advances of the 1950's and '60's enabled Americans to embrace their youth. Shortly after the automobile, radio came into the picture, and with radio came a new kind of recorded music. The only problem with the radio was that people were unable to choose exactly what they wanted to listen to. At home, they were able to play their choice of music on any 45 record player, but in the car, their only option was the radio.
Dr. Peter Goldmark, who worked for the CBS Electronics Lab, decided to put his efforts into developing records that could be played in a moving automobile. He created a disc that was 7 inches in diameter revolving at 16 2/3 rpm, which was half the speed of the LP record (which Goldman developed). The disc also had 55 grooves per inch, which was two times the number of grooves in the LP record. CBS rejected Goldmark's project because they feared they would lose radio listeners if people had the option of playing records in their cars. Goldmark tested the player and discs in his own car, a Chrysler, and worked out minor kinks. In 1955, Chrysler bought Goldmark's automobile player and introduced it in their 1956 line of cars. They teamed with Columbia Records, who manufactured the discs to be sold with the car. Columbia, however, did not provide any information on where to buy additional discs for the automobile player. In addition, the discs could only be played in a car with the automobile player installed. Eventually these 7" discs became obsolete with new models of cars. (Dawson)
The Flexi-Disc
Error creating thumbnail: Unable to save thumbnail to destination
The 7" discs made way for the flexi-disc, which was only 4 inches in diameter, made of soft, bendable plastic. The flexi-disc was durable and inexpensive to make, and able to be played on a 45 record player. These tiny discs were first marketed to children, as prizes in cereal boxes and samples in magazines. The flexi-disc, however, could only be played about a dozen times before the stylus on the record player ruined the tiny grooves. (Dawson)
Philco/Ford
Philco, a division of Ford Motors, produced the most famous flexi-disc series: Hip Pocket Records. These flexi-discs were one sided and played two songs each, including over 50 different Top 40 Songs, as well as children's songs. Philco/Ford teamed with three major record companies, Atlantic, Mercury and Roulette, to produce popular music on the Hip Pocket Records. They were sold for 69 cents at Woolworth, and also at local Ford Dealers. Hip Pocket Records were only manufactured for two years (between 1967 and 1969), but Philco produced a small phonograph for the Hip Pockets called the Miniature Radio Phonograph (model S-1378WH). The Mini Radio Phono, as it was called, was especially made to play Hip Pocket Records, but played regular sized records as well. (Miller)
Competition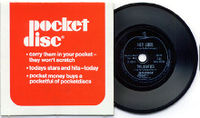 The Americom Company sensed that Hip Pocket Records would be a long-lived fad, and produced their own form of Hip Pocket Records called Pocket Discs. These Pocket Discs were sold only in vending machines, and cost 50 cents. Americom teamed with Apple Records, the record company that backed the most popular band of the 60's—The Beatles. Americom released Pocket Discs with Beatles songs as well as songs from other artists under the Apple label such as the Iveys and Billy Preston.
As a result of teaming with the right record company, Americom's Pocket Discs are worth about $200 today thanks to the popularity of The Beatles. Hip Pocket Records are only worth $5-$15 in mint condition. (Miller)
Packaging
Hip Pocket Records came in very colorful packaging that was about 6 1/4 inches tall by 5 inches wide and listed the two tracks it played and displayed a photo of the artist or band. In addition, the packaging was a form of advertisement that stressed the Hip Pocket's portability, durability, and sound quality. The back of the packaging read:
Buy the hits you missed
25 to 50 hip pocket records can be carried in pocket or purse
Hip pocket records can be mailed with greeting cards as a gift
They will outlast a regular 45
Drop them or sit on them...they are almost indestructible
Take them to parties or to the beach or picnic...they are the most portable form of music
Don't let the small size fool you...the sound is amazingly big
Start your collection of hip pocket records today.
Interestingly, the bit that states Hip Pockets will outlast a regular 45 was written and manufactured before it was discovered that flexi-discs did not last very long. However, the part stating that "the sound is amazingly big" was true.
Top 40 Hits
HP-1 Tommy James & the Shondells Mirage / I Think We're Alone Now
HP-2 Tommy James & the Shondells Hanky Panky / Gettin' Together
HP-3 Sam The Sham Ju Ju Hand / Wooly Bully
HP-4 Mitch Ryder Jenny Take a Ride / Sock It To Me Baby
HP-5 Neil Diamond Girl, You'll Be A Woman Soon / Cherry Cherry
HP-6 McCoys Fever / Hang on Sloopy
HP-7 Happenings Go Away Little Girl / See You in September
HP-8 Sonny & Cher I Got You Babe / The Beat Goes On
HP-9 Doors Light My Fire / Break on Through
HP-10 Five Americans Western Union / Sounds of Love
HP-11 Wilson Pickett Land of 1000 Dances / Midnight Hour
HP-12 Percy Sledge When A Man Loves A Woman / Baby Help Me
HP-13 Otis Redding Shake / Fa-Fa-Fa-Fa-Fa
HP-14 Buckinghams Kind of a Drag / Lawdy Miss Clawdy
HP-15 Arthur Conley Sweet Soul Music / You Don't Have To See me
HP-16 Van Morrison Brown-Eyed Girl / Midnight Special
HP-17 Neil Diamond You Got To Me / Solitary Man
HP-18 Young Rascals A Girl Like You / I've Been Lonely Too Long
HP-19 Spanky And Our Gang Making Every Minute Count / Bird Avenue
HP-20 Keith 98.6 / Ain't Gonna Lie
HP-21 Lesley Gore You Don't Own Me / That's the Way the Boys Are
HP-22 Jay and The Techniques Apples, Peaches, Pumpkin Pie / Loving For Money
HP-23 The Fallen Angels Room At The Top / Most Children Do
HP-24 Aretha Franklin Respect / Soul Serenade
HP-25 John Fred and his Playboy Band Judy in Disguise / No Letter Today
HP-26 The Seeds Pushin' Too Hard / Can't Seem To Make You Mine
HP-27 Box Tops The Letter / Happy Times
HP-28 James and Bobby Purify I'm Your Puppet / Goodness Gracious
HP-29 Syndicate of Sound Little Girl / Rumors
HP-30 Shirelles Soldier Boy / My Heart Belongs To You
HP-31 Etta James Tell Mama / Security
HP-32 The Dells There Is / Show Me
HP-33 Bo Diddley I'm A Man / Song of Bo Diddley
HP-34 Chuck Berry Maybelline / Roll Over Beetoven
HP-35 Country Joe and The Fish Not So Sweet Martha Lorraine / Masked Marauder
HP-36 Joan Baez There But For Fortune / Pack Up Your Sorrows
HP-37 Rooftop Singers Walk Right In / Tom Cat
HP-38 Brenton Wood Gimme Little Sign / Oogum Boogum
HP-39 Fantastic Johnny "C" Boogaloo Down Broadway / Got What You Need
HP-40 Brenda and the Tabulations Dry Your Eyes / When You're Gone
HP-41 Isley Brothers Twist And Shout
Children's series
HP-201 Peter Pan / Tom Thumb
HP-202 Pinocchio / Pied Piper
HP-203 Jack and The Beanstalk / Robin Hood
HP-204 Hansel and Gretel / Little Red Riding Hood
HP-205 Cinderella / Alice In Wonderland
HP-206 Snow White / Littlest Ballerina
HP-207 Gingerbread Man / Bumpy's Bingtown Brass Band
HP-208 Ugly Ducklings / Three Litle Pigs
HP-209 Tortoise and The Hare / Puss In Boots
HP-210 Mary Had A Little Lamb / The Three Little Kittens / Little Bo Peep / Three Blind Mice / One Two Buckle My Shoe / To Market To Market
HP-211 Tom Tom The Piper's Son / The Muffin Man / Simple Simon / Farmer In The Dell / Little Jack Horner / Humpty Dumpty
HP-212 Pop Goes The Weasal / Old Woman In The Shoe / Jack and Jill / Hickory Dickory Dock / London Bridge / Diddle Diddle Dumpling
(Philco/Ford Corporation)
Decline
Hip Pocket Records began fading out in 1969 because of their short playing life as well as the music industry's abandonment of vinyl records (Dawson). Magnetic tape in the form of a cassette became a more logical choice because it lasted longer and was able to hold more content.
Cultural Influence
Hip Pockets are clear evidence of America's need for comfortable mobility. The emphasis on portability printed on the Hip Pocket packaging is arguably what sold the product. Our culture has always been "on-the-go," valuing innovation and a fast paced society. Music was and still is representative of youthfulness and soul. It allows us to be expressive and creative while maintaining a sense of order. Hip Pocket Records made it possible for Americans to take music anywhere. Music was easily shared with others; not only among friends, but also from artists to new audiences. Hip Pockets were often given out as samples during their decline because they were inexpensive to produce as well as easily sent through the mail. Hip Pockets propelled the relationship between music and transportation that existed with the automobile and radio. They promoted the freedom to choose your own music. Hip Pockets encouraged Americans to make music their own by carrying it with them. Now, people are able to carry music with them everywhere in their iPods, laptop computers, and cellular phones.
References
Dawson, Jim, and Steve Propes. 45 RPM. San Francisco, CA: Backbeat Books, 2003. 110-15.
Gitelman, Lisa, and Geoffrey B. Pingree, eds. New Media, 1740-1915. Cambridge, MA: MIT, 2003. 157-73.
Lee, Morton, Phillip L. Miller, Karline Brown, Jerome B. Wiesner, and R.D. Darrell. "Recording Symposium II." Notes Second Series 7 (1950): 599-608.
Miller, Chuck. "Hip Pocket Records: Lighter Than Air." Goldmine 1 Jan. 1999.
Links
There is very little scholarly research on Hip Pocket Records. Most of the information on Hip Pockets comes from the memories of those who used them, posted on personal blogs. People remember receiving Hip Pocket samples in the mail. For many, Hip Pockets are a product of their childhood that died before its time. Here are some links to more pictures and interesting music blogs discussing Hip Pockets: