Dewey Decimal System
From Dead Media Archive
The Dewey Decimal Classification System is a hierarchical system of classification that utilizes decimals to codify divisions. Despite its decreasing popularity, Dewey continues to be the most dominant classification system in the world and is used in over 138 countries and 200,000 libraries. The DDC was created in 1876 by Melville Dewey and in 1988 was acquired by the Online Computer Library Center in Dublin, Ohio who continue to own the trademark.
Utility

The Dewey Decimal Classification System used numerical hierarchy to order information into categories. Each of the 10 below main categories (classes or fields) has 10 secondary categories(divisions) within which there are another 10 tertiary subcategories(sections).
10 Unique Main Classes
100 Unique Divisions
1000 Unique Sections
The 10 main classes are intended to cover all human knowledge and be completely comprehensive, but since they organize by discipline there is some collocation. Call numbers reveal increasingly specified information when read from left to right, making DDC a faceted system where a longer the call number refers to a more specific topic. XYZ could be a a call number where X= the main class, Y= the division, and Z = the section. All call numbers have at least 3 digits. For example call number 87(General collections In Slavic languages) would be represented as 087.
Main Classes
10 Top Level Classes
▪ 000 – Computer science, information & general works
▪ 100 – Philosophy and psychology
▪ 200 – Religion
▪ 300 – Social sciences
▪ 400 – Language
▪ 500 – Science (including mathematics)
▪ 600 – Technology/Applied Science
▪ 700 – Arts and recreation
▪ 800 – Literature
▪ 900 – History, geography, and biography
The 800 Class
The 800 heading houses literature, but fictional prose is divided by language and then form to prevent the section from consuming too great a space. Many libraries choose to classify fictional works separately and classify alphabetically by the author's last name.
Revisions and Proliferation
Error creating thumbnail: Unable to save thumbnail to destination
With its increased adoption internationally, the Dewey Decimal Classification System has been translated into over 30 languages. The system has also required both expansive and reductive revisions.
Types of Revisions
Relocations- commonly used to realign fields of knowledge and make number room
Reconstructed schedules (Phoenix Schedules) – not used frequently to maintain number integrity.
1931 - At the time of Dewey's Death there had been 13 revisions.
2004 - The most recent adaptation, the 22nd Revision.
Recent development - WebDewey which includes all content from DDC 22, including quarterly updates ( new developments, new built numbers, and additional electronic index terms )
Pros and Cons
Dewey's greatest advantage and disadvantage is that it reflects the bias of its creator and the cultural snapshot where it was born. Issues reflecting Dewey's personal bias and the cultural bias surrounding the late 19th century can be seen most clearly in the treatment of religion.
There is also an inherent Anglo-American bias as seen in the presence of a whole division for American literature (810), but a clumping from French and French Canadian Literature.
Melvil Dewey (December 10, 1851 – December 26, 1931)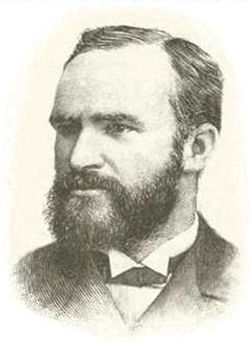 Melville Dewey was a polarizing figure whose personality cultivated both ardent followers who respected him and enemies who found him an annoyance. Melvil considered himself a reformer before a librarian. Born during the evangelical movement, he was obsessed with efficiency and cohesion, to the point of changing the spelling of his name to Melvil Dui. This was in line with his support of simplified spelling. When he went to Amherst College, Dewey had little interest in socializing and devoted himself to rolling out his system while he was working as a student assistant in the school library. This passion for efficiency is said to have been spurned by a near death experience where he ran back into a library during a fire to save more books. As a result he saw time as limited. His interests went beyond the walls of the library to shorthand and bicycles, along with the phonetic nature of spelling.
Dewey's influence in the library went past his classification system to index the entirety of human knowledge. When he opened the first library school at Columbia University 1887 to teach the system, he admitted women and began the stereotype of the woman librarian. Dewey succumbed to a stroke a day after Christmas in 1931 at the age of 80.
Alternatives
"The only group that can categorize everything is everyone" - Clay Shirky
Universal Classification System is an offshoot of DDC that incorporates symbols to indicate subject modifications as either algebraic subgrouping, addition, extension, relation, or language. This systems emerged in the late 1800's and was created by Paul Otlet and Henri La Fontaine.
Library of Congress Subject Headings employs an alphabetic unique naming system (A-Z) that has more top level categories and buit-in granularity. It is also believed to be stronger since it eliminates some bias in diversified creators.
MARC represents MAchine-Readable Cataloging. This system of classification emerged out of the Library of Congress and enables computer interaction.
AACR2 is the Anglo-American Cataloguing Rules, Second Edition exists both in print and online. Created in 1967, AACR has a character based tag and is meant to be more flexible and adaptable than DDC. A core concept is controlling authority in ambiguous cataloguing by having a controlled vocabulary.
Sears Subject Headings is a simplification of Library of Congress Headings that serves smaller libraries with basic essential headings that can be added to as needed. It has a history of previous adjustments and a thesaurus-like format for practicality. It is currently in its 20th addition.
See also: CCO (Cataloging Cultural Objects) and FRBR (Functional Requirements for Bibliographic Records).
In a recent talk to The Long Now Foundation, which focuses on clock and library projects, Clay Shirky talked about where Dewey fit in as a classification system and how the world has continued to evolve beyond it despite its continued dominance. Shirky outlined how to make information persistent and how "cheap flexible systems with large numbers of participants bring down risk of loss". Taking this into consideration we must question if a disjointed move from Dewey would weaken the media it classifies. Is adaptation less risky?
Current Issues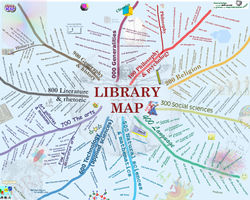 Perry Branch Rebellion
This rebellion against DDC began in 2007 in Maricopa County, AZ. The Perry branch opened and utilized BISAC instead of Dewey. The decision was undertaken at the request of users who felt the Dewey system was intimidating.
The Bookstore Model
The Book Industry Study Group maintains the BISAC system. It uses 52 alphabetic top categories. Where a book falls is determined by the publisher. This system is utilized by companies like Amazon, Barnes & Noble, Bookscan, Bowker, Ingram, and others. The system allows an electronic record in more than one BISAC category and isn't accessible to front end customers.
These decisions are between browsing versus finding. The user-friendsly BISAC-based scheme put customers at ease. This browsing model that works for the book store model contributed to increased circulation at the library too.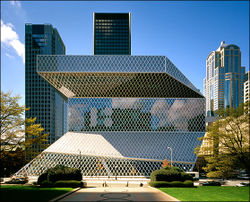 Seattle Central Library
The spectacle that became the Seattle Central Library was the results of both a Seattle Public vote for "Libraries for All" and a $20 million donation by Bill Gates. Rem Koolhaas and Joshua Prince-Ramus of the Dutch firm Office for Metropolitan Architecture (OMA) were the principal architects on the project. The building has been described as a celebration of books with the form dictated by the medium. The Book Spiral, which houses the nonfiction collection, can be found on floors 6 to 9. The floors aren't separated by stairs, but rather are built on a slight incline, allowing the collection to be enjoyed without interruption. The Spiral is organized by the Dewey Decimal System, starting with 000 and working upwards with each foot. In making the decision to design a building around the Dewey Decimal System, the Seattle Central Library has made the classification more durable, pouring it into cement.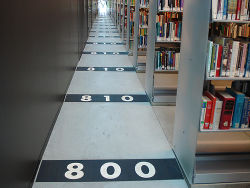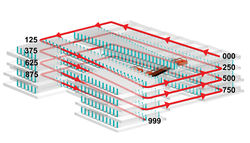 Metadata
Metadata describes and indexes digital info. Some people refer to it as information about information, like a derivative instrument in that it changes along with the underlying content. Metadata, now applied in search engine rankings, promotes tools adapted by the creators of digital info. This digital format allow for retrieval in multiple contexts and by multiple users.
Databases now must catalogue and increasing amount of nontextual information such as images, sounds, videos, and scanned documents. These types of information require multidiscipilary forms of classification and search. These kinds of networks represent the future of broad classification systems.
Tagging
Tools such as Flickr use tagging to classify photographs into different groupings. This approach has transformed the cause and effect of media consumption and creation, changing gather then share into share then gather. These labeling systems that have no hierarchy take advantage of crowd sourcing so no one invents categories on behalf of others. Since this kind of system distributes responsibility among users, it is low cost, while giving a broader range of feedback on the front end. From these tags, one can find correlations, identify subgroups, and detect trends.
But tags aren't flat; they too have a heirarchy established by nesting and creating subsets within tags. This kind of distributed system allows for rich network analysis that reveals more of the crowd than the stagnant categories of a more traditional classification structure. Subgroups and subcultures can be tracked on tagging patterns.
As classification schemes change we must look at the roles they are expected to play. Where they were once merely for search and finding, there is now a navigational element that is present in the link structure. Within this navigation tool is the ability for community correction and more relevant preservation.
The Future and the Questions It Presents
What if YouTube used the Dewey Decimal System? What if it made it multi-dimensional?
Should a classification system seek to provide a consistent browsing tool that users encounter in other environments (e.g., for children, is the same system found in the school library)?
Should a system represent an international standard understood worldwide in bibliographic utilities?
Sources
Clyde, Anne "Metadata. " Teacher Librarian 30.2 (2002): 45-47. Research Library, ProQuest. Web. 28 Nov. 2010.
Drabinski, E.. "Gendered S(h)elves: Body and Identity in the Library. " Women & Environments International Magazine 1 Oct. 2009: Research Library, ProQuest. Web. 28 Nov. 2010.
El-Sherbini, Magda "Metadata and the future of cataloging. " Library Computing 1 Jan. 2000: ABI/INFORM Global, ProQuest. Web. 28 Nov. 2010.
Fialkoff, Francine "It's Not About Dewey. " Library Journal 1 Nov. 2009: ABI/INFORM Global, ProQuest. Web. 28 Nov. 2010.
Fister, Barbara "The Dewey Dilemma. " Library Journal 1 Oct. 2009: ABI/INFORM Global, ProQuest. Web. 28 Nov. 2010.
Goldberg, Beverly "Classification clash. " American Libraries 1 May 2001: Research Library, ProQuest. Web. 28 Nov. 2010.
Ketcham, Susan. "Learn Library of Congress Classification / Learn Dewey Decimal Classification (Edition 21). Library Journal 1 Feb. 2000: ABI/INFORM Global, ProQuest. Web. 28 Nov. 2010.
Kidwell, Claire "Music Classification Systems. Library Review 52.5/6 (2003): 279-280. Research Library, ProQuest. Web. 28 Nov. 2010.
Prescott, Sarah. "If you knew Dewey... " School Library Journal 1 Aug. 2001: ABI/INFORM Global, ProQuest. Web. 28 Nov. 2010.
Stevens, Norman D. "The catalogs of the future: A speculative essay. " Information Technology and Libraries 17.4 (1998): 183-187. ABI/INFORM Global, ProQuest. Web. 28 Nov. 2010.
Tapper, Janet "Dewey Does a Number on Wicca. " Library Journal  : Spiritual living 1 May 2006: ABI/INFORM Global, ProQuest. Web. 28 Nov. 2010.