Cybiko
From Dead Media Archive
Launched in the spring of 2000, the Cybiko was a youth oriented hand held computer and organizer hailed as a "Teen Dream Machine". It was not a cell phone, but rather a wireless two way radio device that incorporated text messaging capabilities. Marketed as a "PDA for kids", it was unique in the fact that its functionality was limited to a maximum range of 300 feet. After only two generations of the device, it was discontinued, but has had sporadic revival attempts made by the manufacturing company, Cybiko Wireless, Inc.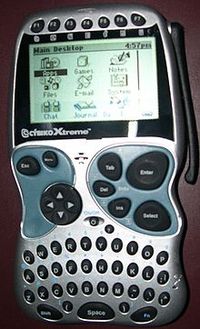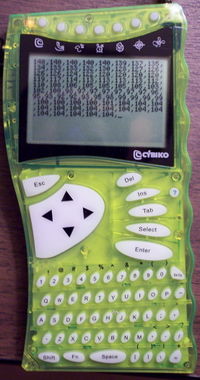 Developement: A Star is Born
The Cybiko was conceptualized by an engineer named David Yang. Yang was born in 1968 to a Chinese mother and an Armenian father. He grew up in The Armenian Soviet Socialist Republic, aka Armenia in the former Soviet Union. At age 17 he moved to Moscow and enrolled in the prestigious Moscow Institute of Physics and Technology. Fresh out of his university training, in 1989 along with partner Alexander Moskalev, Yang created what would become the world renowned ABBYY Software Company. Originally known as BIT Software, Yang's first company was born out of the idea of creating a dictionary software. (Gwin)
In 1999, during a routine hospitalization, Yang's confinement induced boredom was the source of the idea for the Cybiko. While brainstorming about ideas for software inventions, he decided he wanted to create something that could reach the untapped 20 something market. But after further consideration, Yang decided the sea of naive pre-teens at his disposal was a more viable market for the wireless device he was dreaming of. After gathering some initial funding and developing a rough prototype, Yang began to search for a partner. Knowing that he was more of a tech mind, Yang then recruited Chicago business man Donald Wisniewski to be the face of the company and the two formed Cybiko Wireless, Inc. In their partnership, Wisniewski would be the president of their company and handle marketing and distribution in the U.S., and work out of Bloomingdale, Illinois. Yang would be the company's CEO and he and his team of software engineers would operate out of Moscow. (Stanton)
However, the companies Russian influence did not go unnoticed. "Cýbiko's Russian roots initially scared off some early investors. 'It was a new company, and they were concerned about Russia and development, said Yang in a 2001 interview. We didn't have anybody in the U.S., and they were worried.'" (Stanton) But they did have someone in the U.S.: Wisniewski. After finding a manufacturer in Taiwain, and three hundred thousand dollars in intial funding, the Cybiko was ready to enter the market. (cyberhull.com) The first Cybiko's were sold in the spring of 2000, only 8 months after the project began. (Stanton)
Marketing, Youth Appeal and Critical Reception
Error creating thumbnail: Unable to save thumbnail to destination
President of Cybiko, Inc. Donald Wisniewski made it no secret that part of their marketing strategy was to emulate the Japanese toy companies that had had great success in the United States. They looked at foreign models like Bandai and Takara for inspiration. They even chose the name Cybiko because they thought it had a Japanese sound to it. The kids like the name, It sounds like something that they want to play -- some high-tech gadget out of Asia", said Wisniewski. (Stanton) Aside from their admiration for the Japanese toy companies, Cybiko, Inc. did not have any real ties to Japan and had no offices or employees there. It was all simply part of their marketing scheme. (Stanton)
Cybiko's reliance on their Japanese toy predecessors is VERY evident in their ads, particularly their commercials. This ad spot was running during the year 2000, and features asian people speaking English, talking about the Cybiko, but with very, very heavy Japanese accents.
http://www.youtube.com/watch?v=cvbQubCXMgo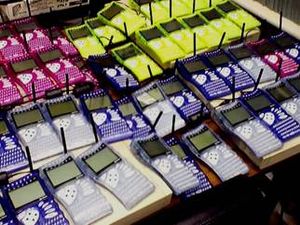 Within the first year of Cybiko, Wisniewski and his team had raised almost 20 million dollars in venture capital. So apparently riding the coat-tails of the Japanese toy craze was a smart decision. After having trouble getting a commitment from any of he big name U.S. toy players like Mattel and Hasbro, the team took the Cybiko to the American International Toy Fair in New York City. After the publicity they received at the toy expo, some major retailers began selling it in stores. CompUSA, FAO Shwartz and Staples were among the early adopters. Gradually more toy stores, electronic stores, and even office supply stores across the country picked up the Cybiko and sales began to reach the millions. In September of 2000 AOL bought an undisclosed share of Cybiko Wireless, Inc., rumored to be anywhere from 20-30%. By December of 2000, "Cybiko held the third-largest share of the youth electronics and communications market, behind Tiger Electronics and Kid Designs, according to NPD Toys, a market research company." (Stanton) Nowhere was this mega popularity more evident than in schools. Cybikos were becoming a phenomenon, and there presence could be seen as positive or negative. Cybiko representatives argued that all of the devices educational tools, like language converters, dictionaries, organizers and its potential as an educational tool would outweigh any negative effects. But educators began having trouble with students gaming, text messaging and more during classes, and as a result Cybiko use was either banned or restricted at many schools. (Mish)
Although general, early reviews of the product were positive , there were a number of issues. One of the primary complaints about the Cybiko was the fact that to use any of the applications that required access to the internet, like email, you had to plug the Cybiko into the USB port of your computer. Easy enough, but this was often time consuming and fraught with technical difficulty. Either the specified downloads took too long or failed to take place at all. Another instance in which users needed internet access was to download the various free games available on Cybiko.com. Tech reviewer Joshua Quittner had this to say about the new handheld: "While the ability to chat on a wireless walkie-talkie alone might make it worth the money for some, I was more excited by the other stuff that the Cybiko promises to do. The Chicago-based Cybiko company calls the device an "entertainment system" because it aspires to be a new gaming platform, like the Game Boy only better, since you can connect Cybiko to your PC and download a free game every day from its website, says the company. Chess, darts--wireless darts, how cool is that!--billiards, poker and dozens of other games are promised, which you can play wirelessly against your Cybiko-toting pals. I was particularly taken with the idea of CyLandia, which features a virtual creature that's like Pokemon except that you can beam it to other users. (Indeed, if you don't take care of it, it will supposedly "flee" to any open Cybiko.)" (Quittner)
Technical Specifications of the Cybiko
First generation product specifications:
Full qwerty keyboard (plus a stylus)
Screen: LCD
Processor: Hitachi H8S 11 MHz
Frequency: 902-928 Mhz
30 digital channels
256Kb RAM
Weight: 122g
Dimensions (L x W x H): 7.1 cm x 2.2 cm x 14.5 cm (amazon.com)
All this and the Cybiko only retailed for a semi-affordable $139. With the corporate team headquartered in Illinois in the U.S., the development and technology team based in Moscow, and the manufacturers located in Taiwan, the Cybiko was a global enterprise. The device had a transmitter similar to those used in cordless phones, and this is what allowed users to connect to each other wirelessly. Whether through text messages or gaming, a Cybiko owner could interact without anyone in their vicinity (a 300 ft. radius) that also had a Cybiko. When setting up a new Cybiko, the owner had the option of entering general profile information, things like age, city, sex. And the device was equipped with a setting that allowed users to be alerted when other Cybikoians that had similar profile information entered the viable range. This proximity necessity is what made the Cybiko an ideal device for communication in schools. That, plus Cybiko's ability to form daisy chain networks among the devices. So if Cybiko A connects to Cybiko B, then Cybiko B connects to Cybiko C, Cybiko's A and C can then also connect. This daisy chain ability made places like schools and malls hotspots for the trendy handheld computers. (Gwin)
Design and Functions
The original Cybiko model had features and capabilities including but not limited to: text messaging
-Games
-Email
-Address book
-Text editor
-Scientific calculator
-Multi-language translator
-Date book
-Two-way radio
In terms of gaming, users could go to Cybiko.com and download free gaming applications for their device. They would they need to plug their Cybiko into the computer to transfer the games onto their handheld. Not only were the games free but there were hundreds to choose from. Aesthetically, the Cybiko was designed to resemble a space age piece of equipment. In reality it resembled a large calculator or walkie talkie. The classic model was encased in semi- transparent plastic and came in many fluorescent colors. Their next model, the Cybiko Xtreme, was a more rugged, sophisticated design that had muted colors and a more substantial build. Also in the Xtreme, the company heavily emphasized the addition of an MP3 player add on for the device.
Downfall and Discontinuation
By 2003, sales had slowed dramatically and the Cybiko, Inc. stopped manufacturing their teen dream machine. What was once perceived as one of the devices greatest's strengths undoubtedly had a hand in its downfall. The fact that the Cybiko was not a phone, in the year 2000 was appreciated. Cell phones had not yet become as common among the youth demographic, so the mobile capabilities that the Cybiko offered were unique. And since the device did not operate on a network like a cell phone would, there were no monthly bills or service charges. But soon the cell phone companies began dropping their prices lower and lower and implementing "family plans", so teens and pre teens became cell phone users along with the rest of the country. Now, if a teen had a cell phone, their Cybiko was close to obsolete. The phone had all the same capabilities, and could make phone calls and connect to the internet on the go. Not only that, but the aesthetics of the Cybiko were not sleek enough to compete with the new PDA and cell phone designs. Although they did make a color correction in the jump from Cybiko Classic to Cybiko Xtreme, the newer model still resembled a walkie talkie more than a phone or PDA and was too large and bulky to be carried easily in a pocket or small bag. If Cybiko, Inc. would have upgraded the device to include cellular capabilities, perhaps then it could have flowed with the cell phone craze instead of going against it, and ultimately becoming defunct.
In the end Cybiko Wireless, Inc. was sold to French Mobile Game company. From birth to death, the Cybiko lasted only about 3 and a half years. It had a meteoric rise and fall characteristic of many electronic devices, games and toys. Between the years 2000 and 2002, the company went from 25 employees to 275, 90% of which were in Moscow working for their technology and development departments. (cyberhull.com) Experts have attributed the quick rise and fall in popularity to the parallel rise and fall of traditional, non cellular PDA's. "They're emulating their parents, said Maria Weiskott, editor of Playthings, an industry magazine. They see their parents' Palm, and they want it, naturally. This market is going to grow to meet that." (Stanton)
Cybiko Today

The Cybiko lives on through the internet, specifically through a fan site for the now deceased handhelds called planetcybiko.com. Although little activity goes on, it does have some information and discussion about the device. Sadly, Cybiko.com is no longer a valid IP address, and no other source of official information can be found for the defunct company. Searches on Amazon.com and Ebay.com can produce some Cybikos available for purchase. Youtube also has old Cybiko commercials and user review videos. Other than these remnants online, the Cybiko was truly a flash in the pan, it came and went, and left few traces.
David Yang is still working full time with ABBYY, and is currently the Chairman for their Board of Directors. He and his former partner Alexander Moskalev have parted ways since their days together in Moscow. Today ABBYY has offices in 9 countries (Russia, Germany, the United States, Ukraine, the UK, Cyprus, Japan and Taiwan) and their products are sold in 130 countries. In addition to dictionary software, ABBYY made its name through innovation and achievement in document recognition, data capture, and other forms of linguistic software. The ABBYY FineReader program has won numerous awards from organizations like PC Magazine, PC World, KM World, and Business Solutions Magazine. This is a program that converts document images and PDF's into editable and searchable files. Through multiple versions in multiple years, FineReader remains ABBYY's best selling product. (abbyy.com)
Donald Wisniewski is currently working as the CEO for CyberHull, a company that specializes in data transformation, content, new media and publishing initiatives for both U.S. based and international clients. After selling Cybiko Wireless, Inc., Wisniewski's next challenge was to take control at Wireless Games Inc., where he became their president and CEO. (cyberhull.com)
Works Cited
www.abbyy.com
www.cyberhull.com
www.dbzoo.com
Gwin, Peter. "From Russia with Buzz." EUROPE Feb. 2001: n. pag. Web.
Manes, Stephen. "That's Intertainment!." Forbes 3 July 2000: 146. Web.
Mish, Patricia. "Talking Tech Latest message device appeals to tech-savvy kids, may pose challenge for school districts." Grand Rapids Press Aug. 2000, Print.
Quittner, Joshua. "Girls and Boy Toys" Time Mar. 2000. Web.
Stanton, Elizabeth. "GRASS-ROOTS BUSINESS; An International Toy With a Japanese Accent." New York Times Sep. 2001, Print.
http://www.amazon.com/Cybiko-Handheld-monochrome-plasma-purple/dp/B00004T1KZ/ref=sr_1_2?s=electronics&ie=UTF8&qid=1289772208&sr=1-2